Shows. Albums. News. Music.
#
#
#
Record Collectors
I've recently taken an interest in collecting records, because I finally bought a record player. Now, unless you want to spend the money on a stereo system along with the record player, some stores sell vinyl players with speakers built in. You can also plug speakers in to give a louder sound. I can barely listen to CDs after hearing the sound that comes in a vinyl. The uncompressed version of an album is so much more inviting than something you hear all the time, like on the radio. I've also realized the importance of hanging on to old records, they are fun to collect and only the best music comes on vinyl because of the work that is involved with making them. Some good places to buy records are at Backspin Records, Waterloo Records, Antone's, and at garage sales or thrift stores. For a record player, I bought mine at Urban Outfitters. You could also shop through pawn shops and thrift stores.
http://www.urbanoutfitters.com/urban/catalog/productdetail.jsp?_dyncharset=ISO-8859-1&navAction=jump&id=15294580&search=true&isProduct=true&parentid=SEARCH+RESULTS&color=00
#
#
#
Crystal Castles self-titled album leak causes sooner release date
It seems like a rare occurrence for a new album to come out on it's scheduled date these days. It's not coming out late, it's coming out entirely too early. With the internet being such the file sharing powerhouse that it is, it's becoming increasing more difficult for bands to trust their record labels and people around them. Then again, the gained publicity makes their albums spread like wildfire while people rush to download them before the link is taken down. Crystal Castles sophomore album, titled Crystal Castles, was scheduled to come out June 8, but they have pushed up their release date to April 23 as a digital download. The album will hit stores on May 24th. The album originally began leaking April 18. The Toronto based electronic band could benefit from their album leak since they're learning how to play the file sharing game.
They are currently on tour and have an Austin, Texas date on their select schedule. They will be performing at Stubb's BBQ on August 11, 2010.

April 26 Paris, France @ Le Nouveau Casino
April 27 Zurich, Switzerland @ Rosthoflager
April 28 Milan, Italy @ Magazzini Generali
April 30 Murcia, Spain @ SOS 4.8 (Estrella Levante)
May 1 Porto, Portugal @ Queimodromo Parque De Cidade
May 4 Lisbon, Portugal @ Coliseum
May 19 London, England @ Heaven
June 4 Nuremberg, Germany @ Frankenstadion (Rock Im Park)
June 6 Nurburg, Germany @ Nurburgring (Rock Am Ring)
June 11 Dores, Scotland @ Clune Farm (RockNess)
June 27 Pilton, England @ Worthy Farm (Glastonbury Festival)
July 8 Liege, Belgium @ Les Ardentes HF6 Festival
July 11 Novi Sad, Serbia @ Exit Festival
July 31 Emmaboda, Sweden @ Emmaboda Festival
Aug. 6 Oakland, CA @ Fox Theater
Aug. 7 Los Angeles, CA @ Los Angeles State Historic Park (HARD Summer)
Aug. 9 Denver, CO @ Ogden Theater
Aug. 11 Austin, TX @ Stubb's BBQ
Aug. 13 Chicago, IL @ Congress Theater
Aug. 14 Toronto, ON @ Kool Haus
Aug. 15 Montreal, QC @ Metropolis
Aug. 17 Boston, MA @ House Of Blues Boston
Aug. 18 Philadelphia, PA @ Electric Factory
Aug. 20 Washington, DC @ 9:30
Aug. 21 New York, NY @ Terminal 5
Aug. 22 Baltimore, MD @ Sonar
Aug. 27 Leeds, England @ Bramham Park (Leeds Festival)
Aug. 28 Reading, England @ Richfield Avenue (Reading Festival)
Sept. 4 Stradbally, Ireland @ Stradbally Hall (Electric Picnic)

Here are the songs on Crystal Castles:

"Fainting Spells"
"Celestica"
"Doe Deer"
"Baptism"
"Year Of Silence"
"Empathy"
"Suffocation"
"Violent Dreams"
"Vietnam"
"Birds"
"Pap Smear"
"Not In Love"
"Intimate"
"I Am Made Of Chalk"
#
The early bird gets the worm
ACL Fest "early bird" tickets are already sold out for 2010. Yes, 2010. They will be releasing the lineup Friday, May 14th.
#
Grizzly Bear to release special edition album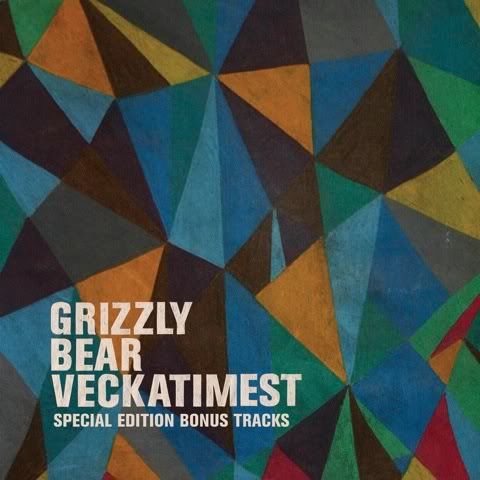 Grizzly Bear is releasing a special edition version of their most recent album Veckatimest in the US and UK on November 2nd. The new version will include seven addition live recordings on an additional disc and a 24-page photo booklet. The band played ACL fest and a sold out after show at Emo's.
CD2
Bonus Live Tracks:
1. Southern Point (KCRW Session)
2. All We Ask (KCMP Session)
3. Ready, Able (KCRW Session)
4. Foreground (Duyster Session)
5. Two Weeks (BBC Maida Vale Session)
6. Dory (World Café Session)
7. While You Wait for the Others (BBC Maida Vale Session)
Watch a performance the band did for La Blogotheque
#
Dear MJ fans, ever want to learn the accurate choreography to Thriller? Well now you can in the spirit of Halloween thanks to Alamo Drafthouse and the Highball.
#
It's FINALLY here, but early?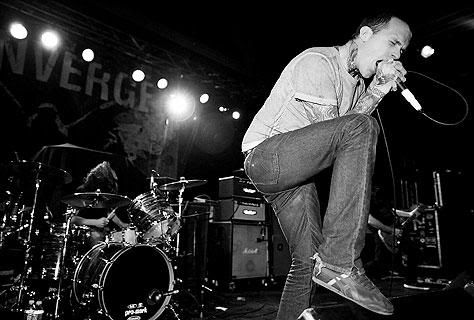 Photo by Ryan Russell of the Denver Post
I think this is the most exciting thing I've heard in a while, from a personal viewpoint. Converge's new album "Axe to Fall" leaked! The Boston hardcore band has been working on their new album for the past couple of years and it was due out October 20, but then it leaked. Exciting for you if you were downloading torrents Sunday October 3rd, unfortunate for you if you tried to find it after that because they had it taken down. The band posted on their twitter page, "BTW: Special thanks to SHAUN HAND at Metal Sucks for leaking our album…" Rumor has it that Hand's address was posted on the internet, leaving him with the outcome of thousands of angry Converge fans. The band also said that they didn't even have a copy of the album yet when it leaked. But the point isn't when the album came out, but that it did. This album is so heavy it had already caught me off guard at the opening track, "Dark Horse." The title track "Axe to Fall" might sound familiar because it was featured in the album preview Deathwish records released months ago. I'd say "Cutter" is my favorite because of the drum progression at the beginning.
Now be forewarned, if you've never listened to Converge it might throw you off a bit. But this is a blog to go all over the map in musical interests. Not quite the band I would describe for easy-listeners because the music is full of loud, thrashing instruments and Bannon's screams. The band has a intimidating guitar style that creates an almost ominous feeling to it. But don't let that stop your judgement because Bannon has a lot to say and has extremely poetic lyrics deep down. (But I don't think boys would admit that about this tough band)
So maybe you'll get lucky and someone you know will share it with you, that's how I got the album. But of course not to say I won't go out and pick it up on October 20, I wouldn't want to miss out on the artwork Bannon does for every album. Converge is opening for Mastodon and Dethklok at Austin Music Hall on November 13, the show is sold out, but I guess there's always Craigslist.